Last Sunday Baltimore cyclists gathered to honor a cyclist that was killed (Baltimore Sun coverage) by a right turning truck (that did not signal) and a lot of conversation was about how dangerous it is to bike in the city. And if you look at all traffic fatalities in the city it does indeed look like a very frightening place to ride.
Map of all traffic fatalities 2003-2007:

But the world I see when I bike is this:
Map of Cycling fatalities 2003-2007:

That's what cycling fatalities look like here. And the tragically ironic bit is too many of our bicycle crashes are because people feel unsafe cycling on our streets so they try their best to stay out of the way of cars by adopting unsafe practices like riding against traffic or even worse, riding against traffic on the sidewalk where no motorist is looking for traffic. So while it may feel initially safe to be out of the area of attention of motorist or to be able to "see it coming" the cold hard fact is for safety we need to ride our bikes as part of traffic, not invisible or contrary to traffic. Aggressive motoring calls for assertive cycling, timid cycling on an aggressive motorist road/time of day just does not work, that's the basic law of the jungle.
Being assertive is often considered rude but being a aggressive motorists is even more rude. So the question is how do we cope and ride safe in this environment? My first recommendation is reading a few articles on Ken Kifer's site and then watch the video produced by MDOT filmed mostly in Baltimore and hosted by Bike Maryland (note there are 5 parts to the video, when done with one part click the next part under the video.)
From conversations I have had, the people that are still reluctant to ride because they feel that the more people that ride the more bike crashes and fatalities will happen. But there is ever increasing evidence that is not the case, as one example, data from Portland, OR which has seen tremendous increase in cycling yet their cycling crashes remain fairly constant: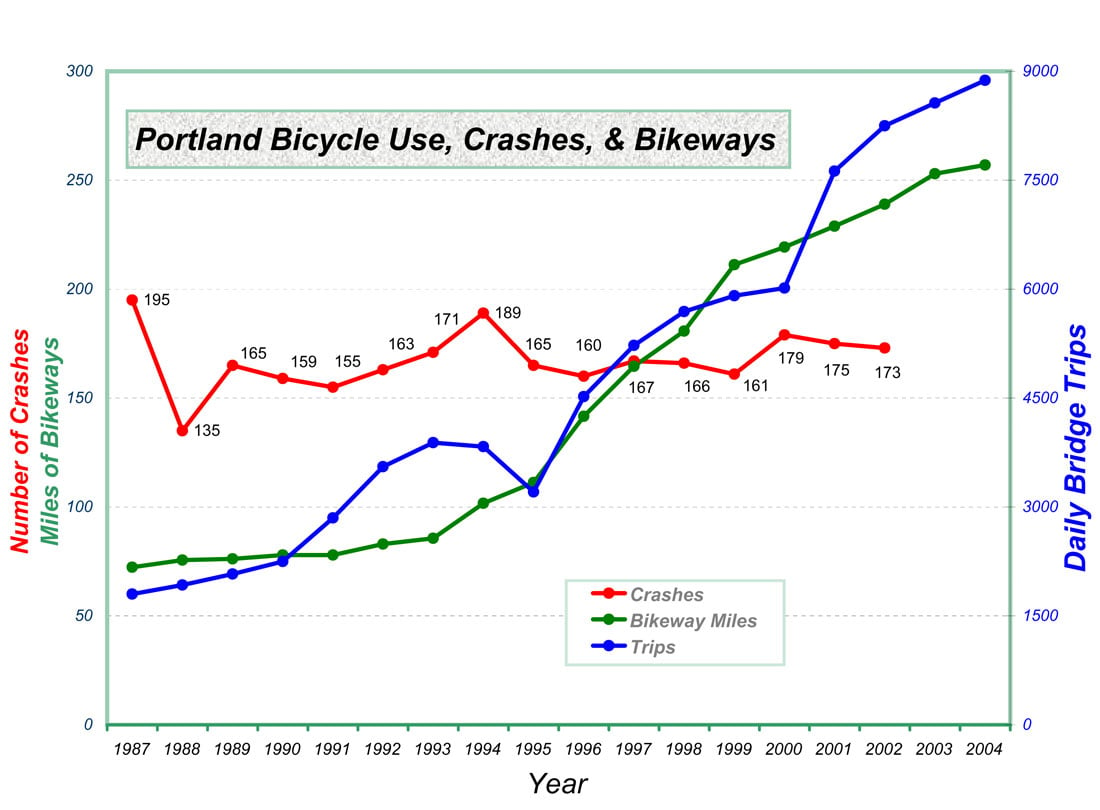 In conclusion: Cycling is good for you, your health and the environment and the more people that ride, the safer it is for everyone. So while some "street smarts" is required for safety, it's not rocket science. Oh ya, it's also fun and practical way to go places, get things done and enjoy life.